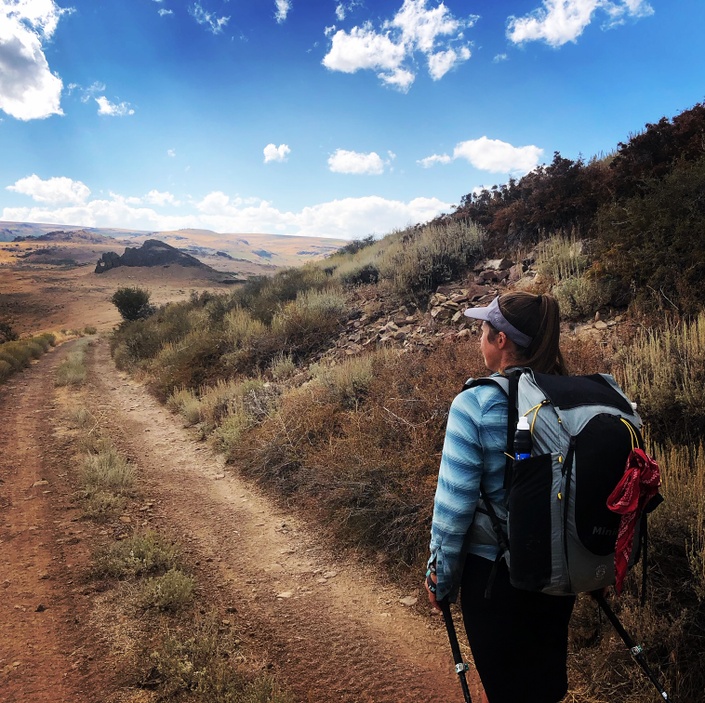 Adventure Ready Physical Preparation
Your guide to complete physical preparation for optimal strength, energy, and endurance on your next backpacking trip!
Enroll in Course
Imagine being able to confidently say "Yes!" to any adventure invitation, at any time, knowing you have the health and fitness to feel great.
Welcome Ambitious Adventurer
ARE YOU READY TO THRIVE ON YOUR NEXT ADVENTURE?
Imagine yourself standing on a high mountain summit or walking the final few footsteps of a multi-thousand mile journey, placing your hand against the terminus monument.
You feel strong, empowered, and courageous. You've just accomplished the adventure of a lifetime; a feat that few on this Earth will complete. You're connected to Nature, living the freedom-filled adventurous life you're here to live. You've overcome numerous obstacles on your journey and you now realize that anything is possible for you.
Where will you go next?
Right now, that vision may feel like a distant dream. It's possible you've dreamt of this adventure for years or even decades.
The Adventure Ready course offers a complete holistic preparation guide for the ambitious adventurer who wants strength, resilience, and energy to have their best backpacking trip yet.
It's for the courageous explorer who is ready to actualize their adventure dreams.
Adventure Ready is for you if you…
have a goal adventure, but your health is not where you want it to be and year after year slips by without your dream becoming a reality

already eat healthy and exercise regularly, but still feel fatigued

struggle with strong cravings, especially for sugar, and you don't know how to find FOOD FREEDOM and a sustainable way to eat

feel overwhelmed by all the health advice out there and it makes you want to just 'give up'

want to be "trail ready" anytime a friend invites you on an adventure

feel like your dream is out of reach due to chronic illness or simply being out of shape
A few years ago, I was sidelined from the adventurous life I love. I was dealing with adrenal fatigue, debilitating autoimmune symptoms, creeping weight gain (even though I was eating 'clean' and staying active). My digestion and menstrual cycle were off, and I felt completely frustrated and overwhelmed with the constant stream of endless, ever-changing health advice out there.
Fast forward to today: I wake up with the energy to run my business, to nurture relationships, and to get out on soul-satisfying outdoor adventures (like the 3000 mile Continental Divide Trail I hiked in 100 days last summer!).
I now know exactly how to eat, exercise, sleep, etc. to have the health I need to do the things I love (without restrictive diets or depleting workouts).
Since recovering my health, I've thru-hiked the Continental Divide Trail, the Colorado Trail, the Wind River High Route, and the Oregon Desert Trail, among other adventures.
And the best feeling is that I know the other adventures I have in the pipeline are truly POSSIBLE for me. It didn't feel that way a few years ago.
It took A LOT of education, time, money, and self-experimentation, as well as hours of client work, but I've been able to pull out the common threads from my experience and that of my clients to identify the key strategies that moved the needle the most for the greatest number of people.
These strategies became what is now the Adventure Ready online course. It follows a specific sequence that optimizes the key elements of health so you can feel at the top of your game on your next adventure.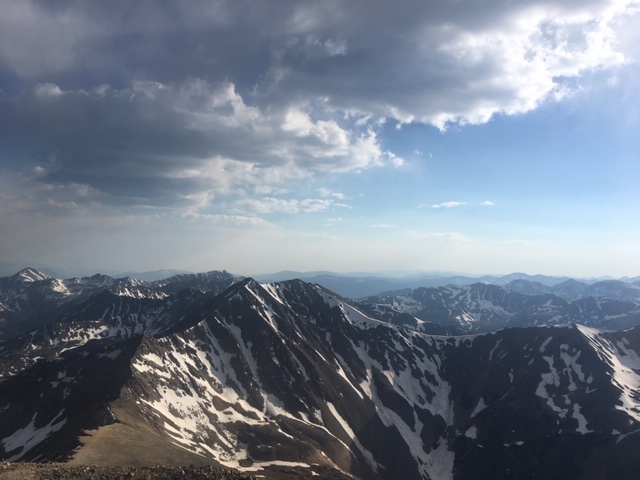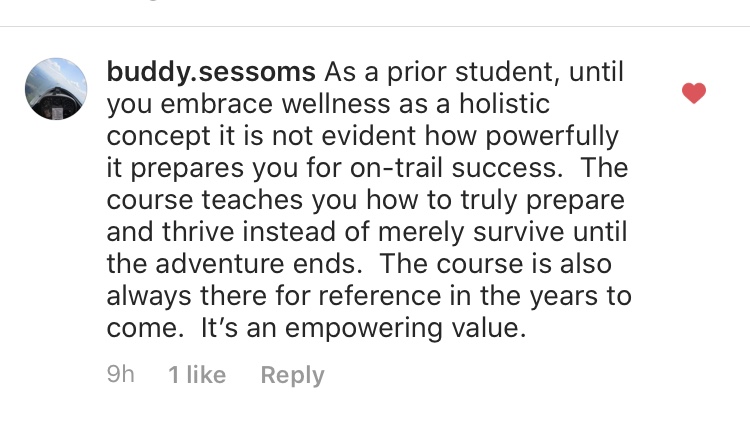 -Buddy Sessoms, Engineer + Pilot, Colorado Trail thru-hiker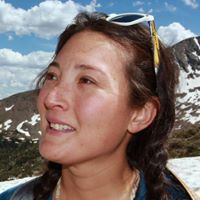 "I've been thinking a lot about how small changes in my diet and nutrition can help or hinder my performance as an athlete. Last year, I took the Adventure Ready course taught by my friend (and sometimes hiking partner) Katie Gerber and was surprised by how much it changed how I hiked the PCT this past summer and how nutrition (and maybe other things?) made me feel stronger (even though I carried less weight in food than usual!)
As with most things in life, I came into the course last year thinking I'd get one thing and ended up getting something a lot more valuable. At this point in my hiking career, I thought I had nutrition dialed in. But I took the course hoping to find new foods that I wouldn't get tired of, because I feel like I've had my fill of any trail-stable food that exists.
One of my big takeaways was about timing of when to eat food on trail. One example is that I learned to never start the morning with a sugary breakfast (which, admittedly, was often the only kind of food I felt like eating in the morning while I on a hike). This year on the PCT, (almost) every morning, I resisted the urge to start the AM with a chocolate bar or sports nutrition gel or gummy, and was surprised what a difference in made over the long haul of the day."
- Liz "Snorkel" Thomas, former AT self supported FKT holder, Co-Founder, Treeline Review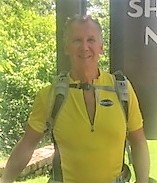 "I'm 62 years old and have been focused on improving my cycling and all around health. Over the previous year, I had kept up my activity level but started neglecting my nutrition, stress and sleep regimen. I gained 20 pounds and started feeling sluggish and looked for a reasonable approach toward developing a sustainable program of health.
The best thing I did was schedule a complimentary call with Katie and after a few minutes I knew I had found my nutrition coach. Katie is sincere and seems to genuinely care about my journey. While it's only been three weeks, I started the elimination program, and followed Katie's guidance related to supplements, sleep, stress and other lifestyle changes that have been easy to incorporate into my busy schedule. So far, I've lost 15 pounds, sleep better, feel great and no longer suffer from chronic muscle spasms.
Katie has been a pleasure to work with. I'm hooked!!"
-Tom B., Head of HR, avid cyclist
Better energy, improved endurance, better immunity, and faster recovery ARE POSSIBLE for YOU…
...without restrictive diets
...without wasting a lot of money
...without wasting time cobbling together different strategies
...without wasting effort following dead ends
... even if you've tried everything before!
The body wants to thrive. We just need to remove the obstacles and give it the right inputs.
Introducing Adventure Ready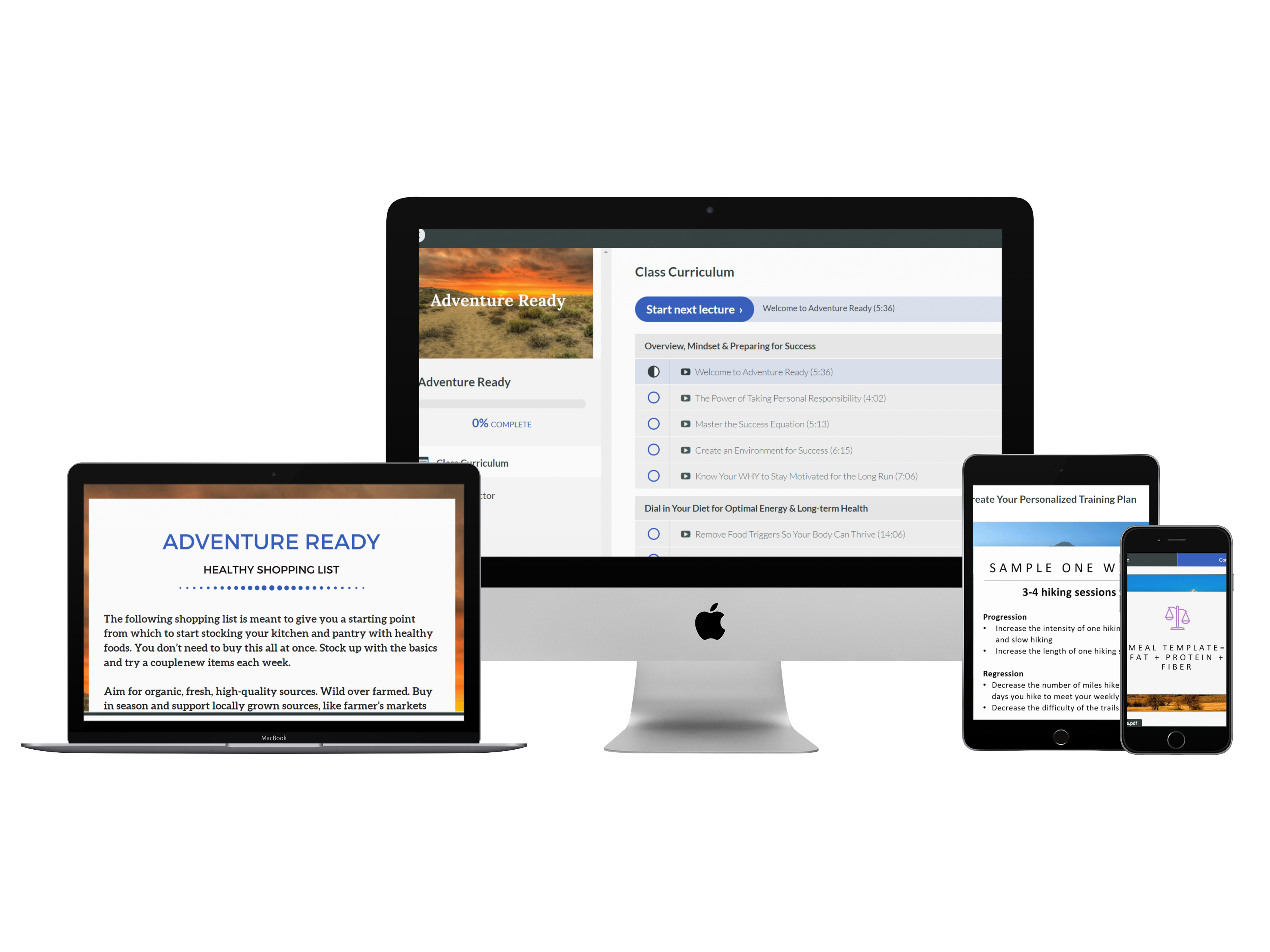 The ultimate road map to the energy, endurance, and vitality you need to enjoy your next wilderness experience to the fullest!
In this self-paced online course, you can expect to…
Master the mindset for success

Learn to eat for optimal body composition + energy

**regardless of the style of eating you follow**

Fix your digestion

Create an efficient, effective training plan

Recover faster

Sleep better than you have in years

Prevent stress from sabotaging your progress

Boost your immunity

Feel more confident + comfortable in your skin

Feel 100% prepared for your next adventure!

Prevent post trail adrenal burn out or hormones disruption by going into your adventure fully nourished.
As one former student said:
"The cost of potentially having to bail on a hike by not preparing well far outweighs the cost of this course."
Katie, I am in heaven, learning soooo much. I can't tell you enough how empowering this all is at my age. Though there are times I get a little overwhelmed, mostly I am just energized, excited, motivated. Thank you for taking me on this journey and fostering the inspiration of adventure.
P.S. I will be taking your Navigation and Safety classes when I am done with this course.
-Jeanine D., PCT hiker in her 60's
I've personally learned a ton and completely changed my diet by following Katie's guidelines and advice. My energy levels and digestion capacity have done a complete 180 throughout the last 10 months of transitioning away from all the crap food that I used to love so much.
-John (Bigfoot) Carr, IT Specialist, CDT, PCT thru hiker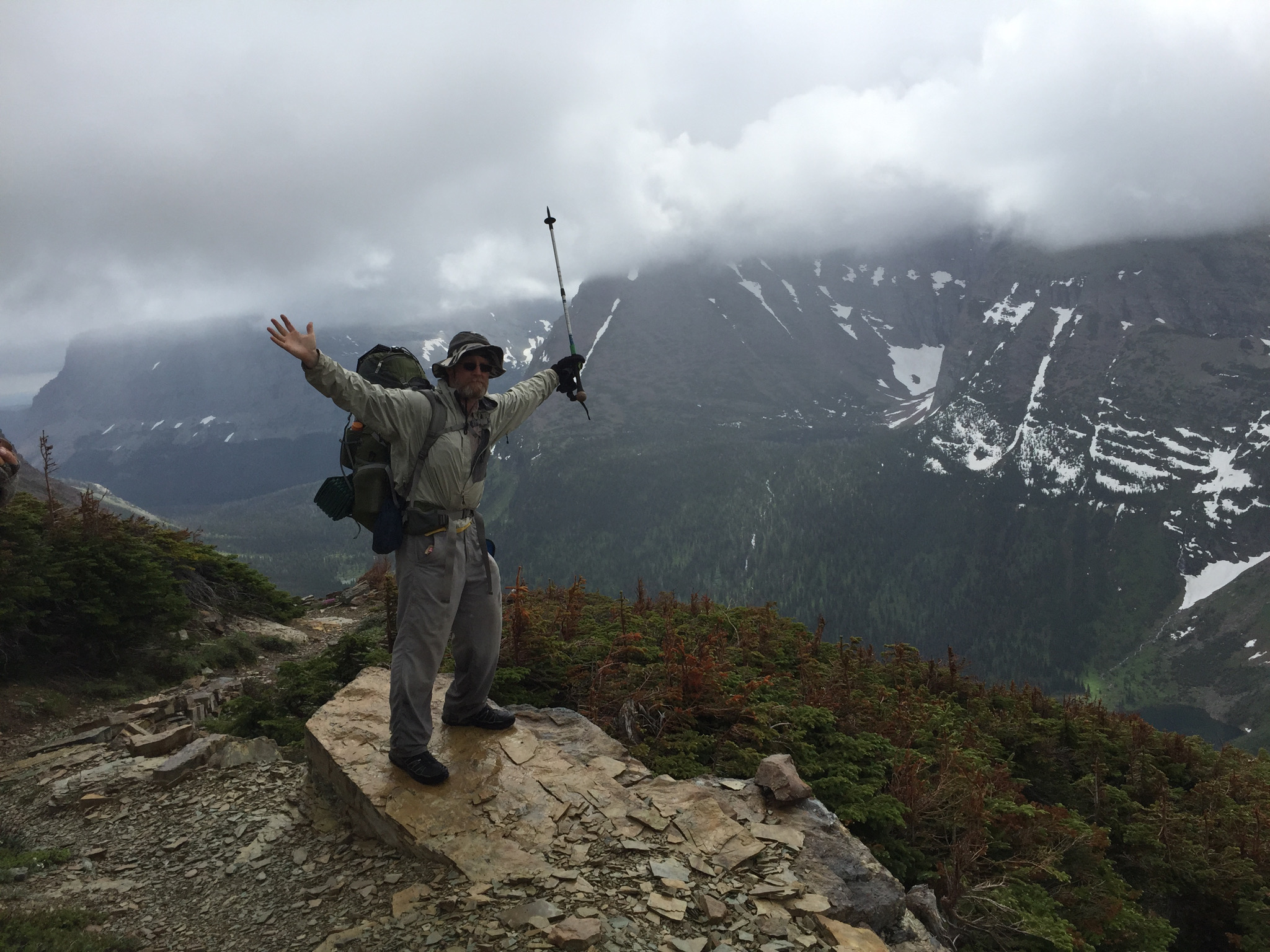 "I got off the CDT in 2015 thinking I could maintain my weight. After ballooning to 245 pounds I asked Katie for help. I shed 20 and found a diet that works. My goal was to get back to a good weight and find out what nutritionally would sustain a good weight while being satisfied. I heard Katie on the trail show and was convinced she knew what to do. Since working with Katie, I've lost weight, I'm feeling better, and I have a sustainable diet. She shows a lot of attention to her clients and good follow through."

- Pat (AXYL) Dixon, musician, CDT thru hiker
Meet Your Instructor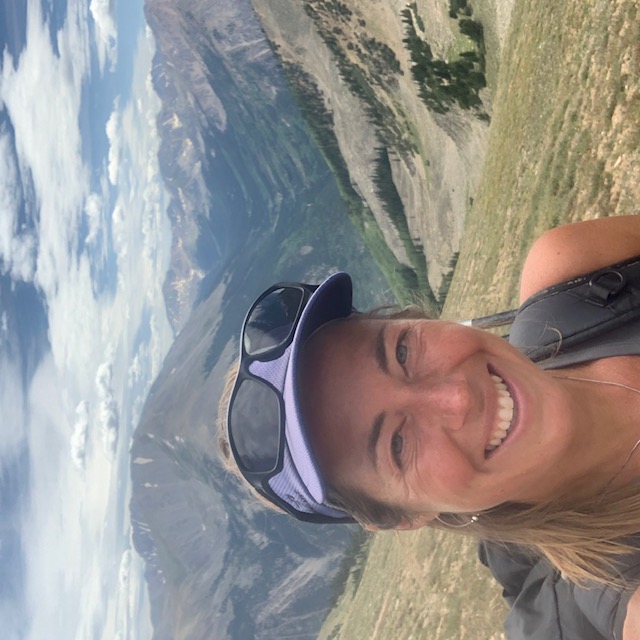 Hi! I'm Katie, certified nutrition coach, long distance hiker with 8000+ miles, online course creator, and founder of KatieGerber.com.
In the last 3 years, I went FROM overwhelming adrenal fatigue, debilitating autoimmune symptoms, creeping weight gain, digestive issues, missing periods, and complete frustration over my health issues TO…
Waking up energized, with healthy hormones and digestion, and the confidence that I have the health I need to do the things I love. Since that time, I've thru-hiked the Colorado Trail, the Wind River High Route, the Oregon Desert Trail, and the Continental Divide Trail, with more adventures in planning.
I've turned my strategies into a step-by-step system in the self-paced online course "Adventure Ready". I want to save you the time, money, and struggle I went through. I understand how frustrating it is to feel overwhelmed by all the health information out there, to feel like you've tried everything to get better (and seen no results), and most importantly, to not be able to be outside in the places you love doing the activities you love and living a fulfilled life.
Time spent immersed in the wilderness can be life-changing and it's so much more enjoyable when you have the health to THRIVE out there.
I've been featured in...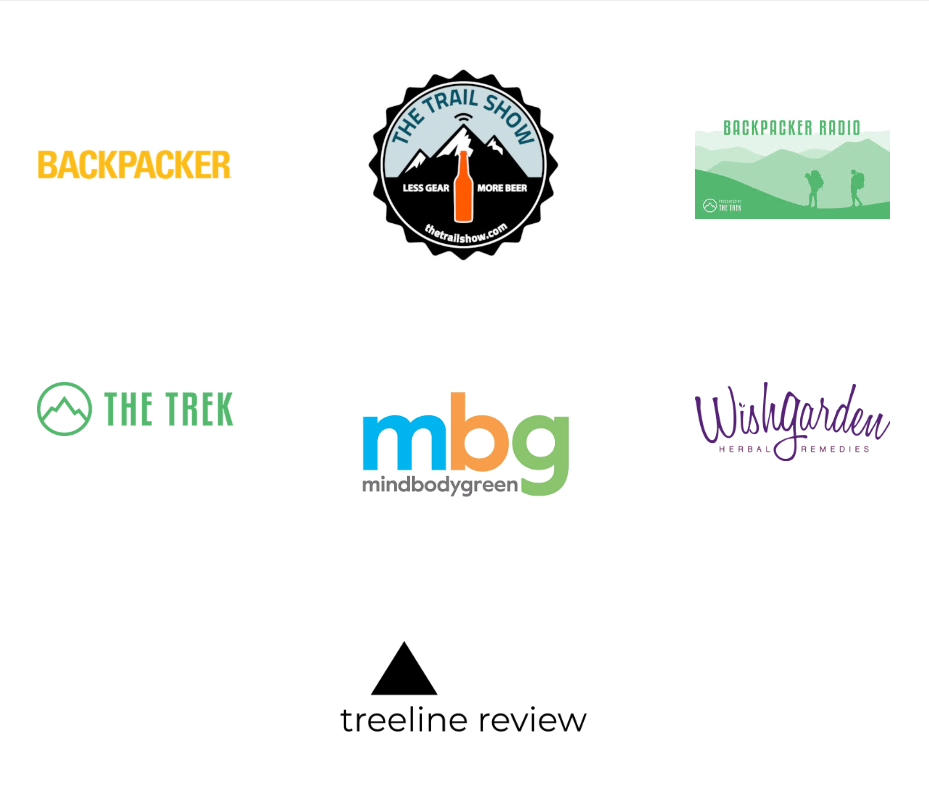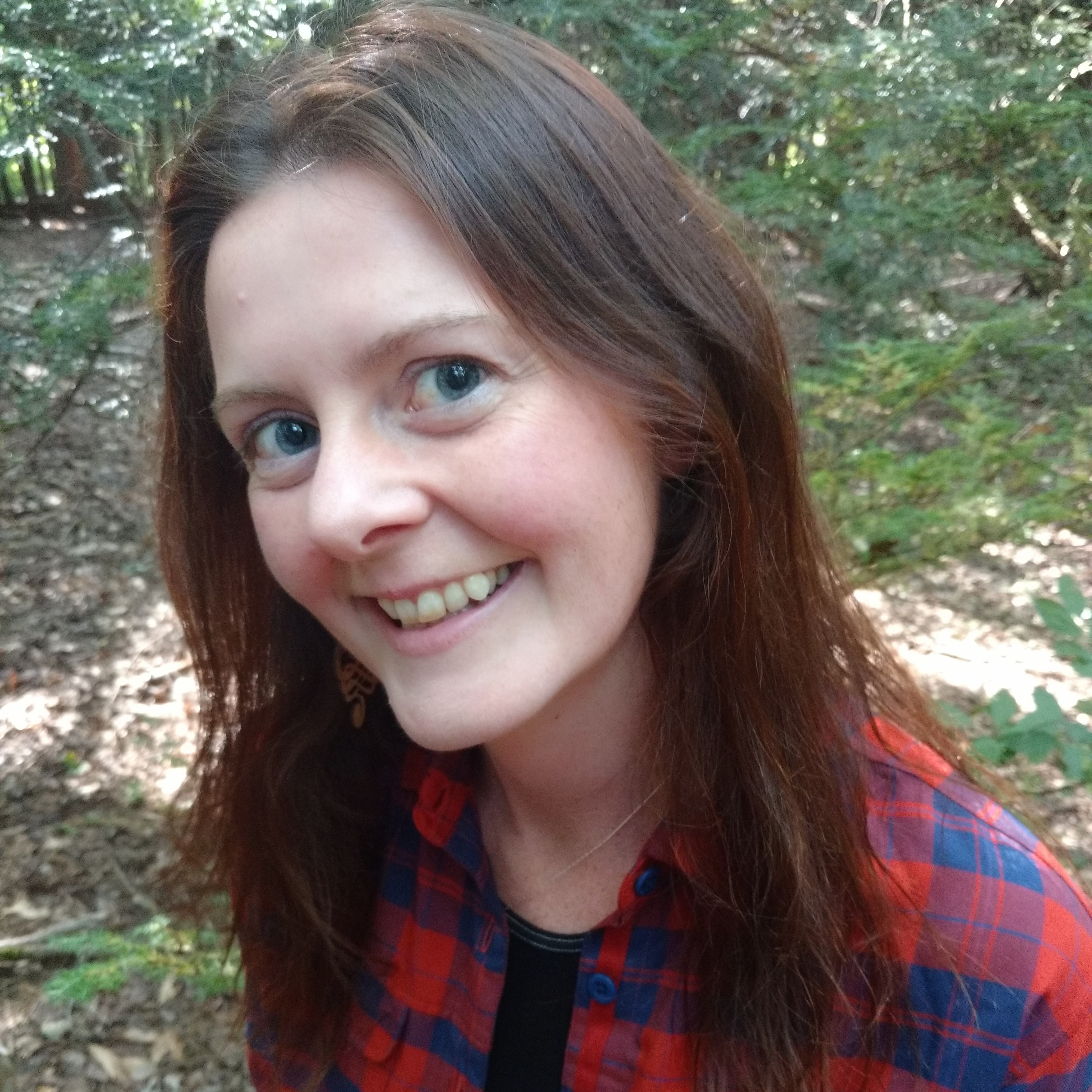 Co-Instructor Bio
ACE-certified personal trainer Heather "Anish" Anderson created all the content in the movement module.
Heather became the first female Calendar Year Triple Crowner when she hiked the Appalachian, Pacific Crest and Continental Divide Trails in one March-November season in 2018. She also holds several overall self-supported Fastest Known Times (FKTs), including the Pacific Crest Trail and Arizona Trail. She has hiked nearly 30,000 miles since 2003 including 13 thru-hikes.
I'm thrilled to have partnered with Heather to have her expertise available to students via the movement module. This includes the same process she uses when working with individual clients preparing for long distance hikes.
You absolutely could hire a nutritionist, hire a trainer, do your research, and figure out your health on your own...
but have you?
Adventure Ready takes everything I learned in years of study, client consults, and self-experimentation and distills it into a systematic approach to provide you with the roadmap you need to reach your goals faster and with less expense.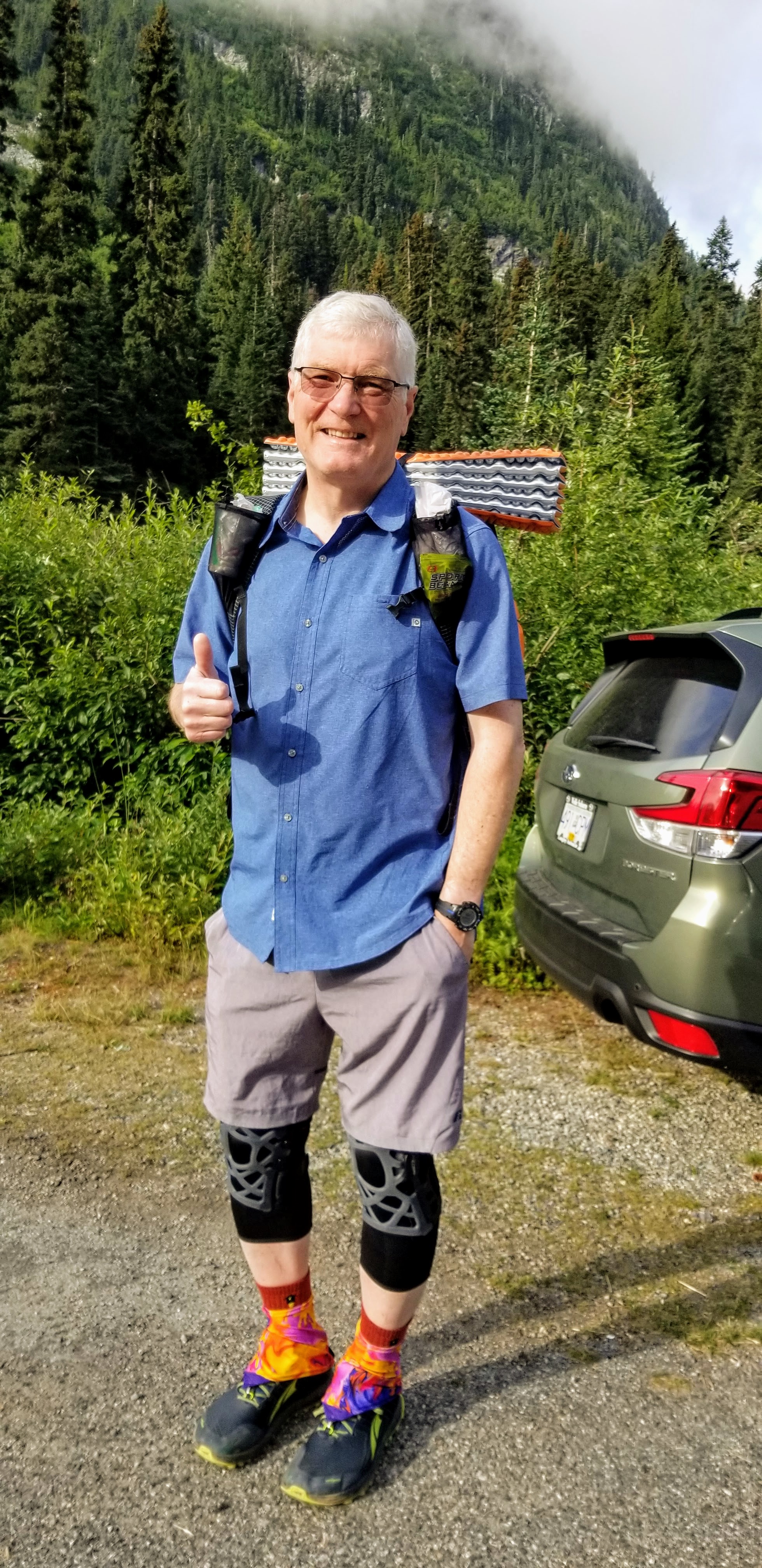 "I greatly appreciate Katie's insights and work with me last year. With the suggested diet adjustments, I have been keeping weight off, even during the winter, and seem in the best hiking shape of my life since college! Now I'm looking forward to hikes on the West Coast Trail, in the Wind River Range, and on the Colorado Trail."
- Al Wallace, PCTA trail crew volunteer, section hiked the WA section of the PCT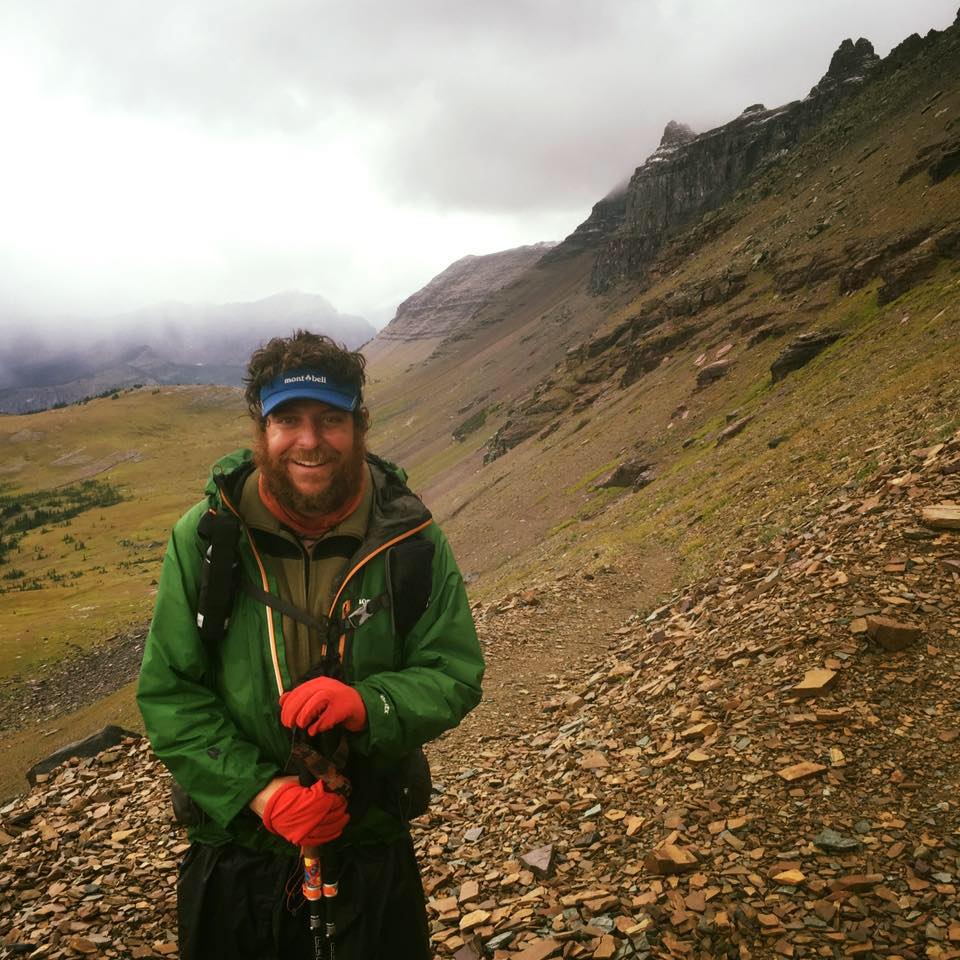 "Having Salty as a hiking partner, I was fortunate enough to absorb and put into practice a lot of her health and nutrition advice. My diet was cleaner on the ODT than any other hike I've completed and we pushed hard on that hike. I had better energy and endurance, and my digestion improved too!"
-Whitney (Allgood) LaRuffa, President of the American Long Distance Hiking Assoc.-West, thruhiker AT, CDT
Here's a look at what's included in each step of the process...
Course Curriculum
Master Your Mindset & Prepare for Success
Available in days
days after you enroll
Dial in Your Nutrition for Optimal Energy & Long-term Health
Available in days
days after you enroll
Heal Your Gut for Increased Energy, Endurance, and Resilience
Available in days
days after you enroll
Upon enrollment, you'll have immediate access to all the course materials.
All modules include…

Video

Audio Files

Downloadable PDF Worksheets & Guides including shopping lists, recipes, meal templates + sample meal plans

Support in a Private Community

Access to All Future Updates
(meaning enroll now and you'll be grandfathered in to all future content updates whereas new students will pay increased tuition)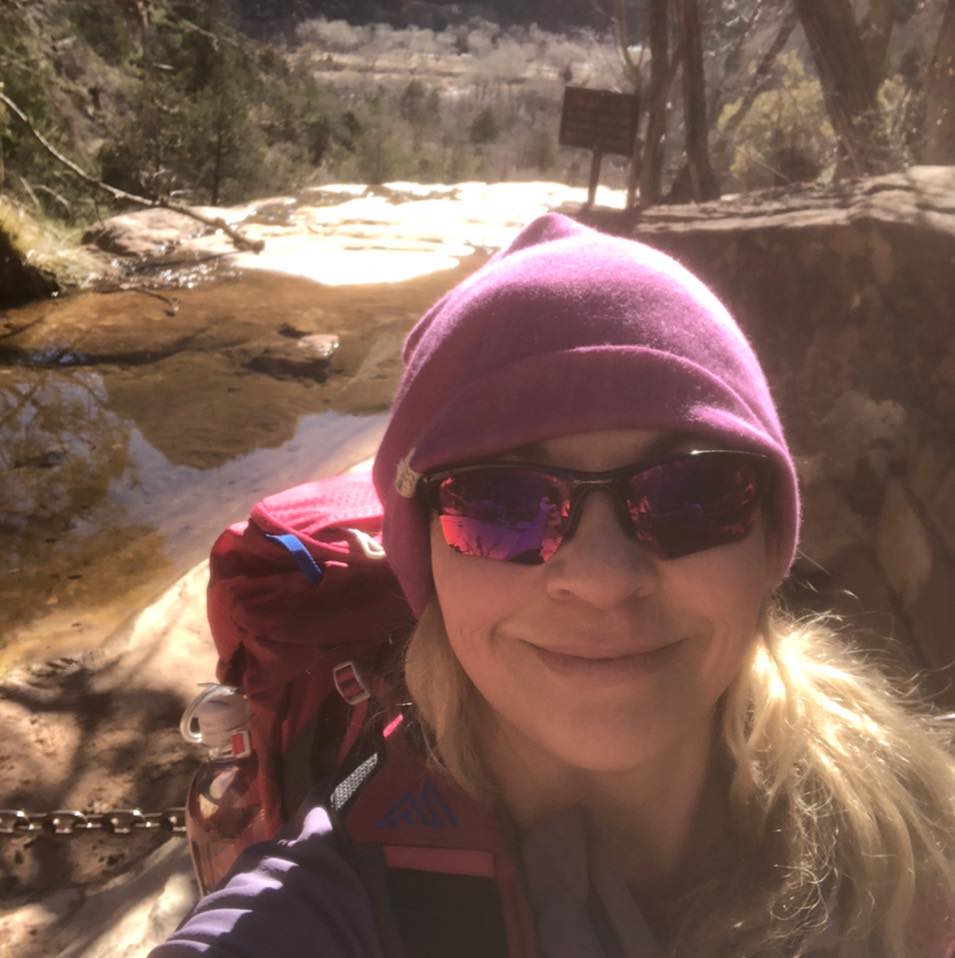 "Katie is amazing! We spent several weeks together in an RV traveling and hiking Utah and AZ. She coached me with backpacking advice, nutrition and learning how to be enough for myself NOW and loving myself for who I am today."
- Annemaria Allen, CEO, The Mortgage Compliance Group, avid hiker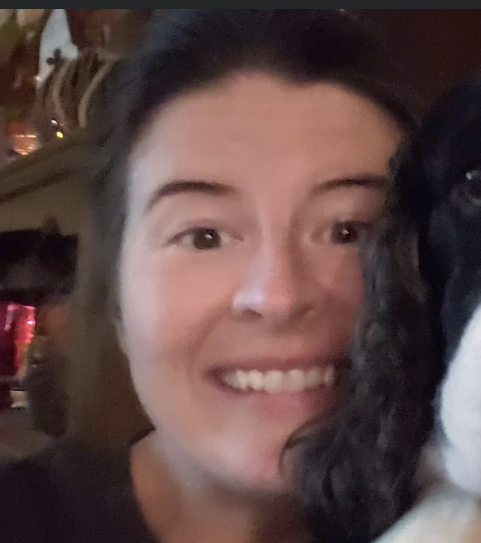 "Thanks so much for getting me out of my "funk." I truly was in a health/exercise funk! I feel so much better now that I've lost a few pounds, am exercising, and have a goal to work towards.
Thank you for that!
You truly have a gift for encouraging - you always seemed genuinely excited about my little victories and you made me feel like I really can accomplish this.
Again, thank so much!"
- Missy Becker, Nurse, aspiring backpacker, Adventure Ready VIP student

Quality GUARANTEE
If, within 30 days of purchasing the Adventure Ready course, you are unhappy with it, I'll refund your money.
You have to do the work though. Buyer's remorse doesn't count ;)
*all I ask is that you send proof you implemented the required work (completed all exercises and worksheets) and saw NO improvement in your health (weight, energy, blood markers, symptoms, etc) and I'll refund you.

**does not apply to VIP 1-1 option
"I was already feeling unhappy about how I was treating myself, but didn't know what to do about it, because I'd tried this, that and the other thing before. It has been good to have someone to check in with, who has new ideas. I just get so overwhelmed that creativity and thinking outside the box is difficult. Katie has a clear vision of what path to take, and guidelines to follow by."
-Diane P., Veterinarian, avid hiker and backpacker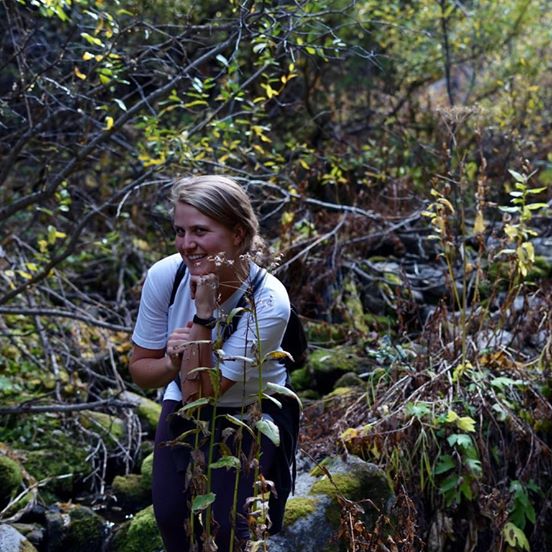 "I am feeling much better, and have been appreciating having more options for meals. I am very glad I got to work with Katie and have found her guidance really helpful!"
-Bonnie Gager
You spent the money on great gear, you have the maps, you got the time off work. Don't have to bail because you didn't prepare.
Imagine yourself out in nature, standing on a mountain or at the terminus monument, looking great and feeling alive, free, fulfilled.
That's your future.
THIS is your chance to create a solid foundation for resilient health and to acquire the tools to be physically prepared for A LIFETIME OF ADVETNURE.
Now's the time to take the next step.
What types of people can benefit from the Adventure Ready online course?
(it's not just for aspiring thru hikers!)
*backpackers
*day hikers
*section hikers
*thru-hikers
*active outdoor enthusiasts
...anyone who wants a sustainable path to optimal mind + body health
(regardless of where you're starting from)
This course is NOT for you if…
*you're looking for a quick fix
*you want a one-size-fits-all diet
*you're not willing to invest time and energy into your goals
*you're not willing to try new systems
*you're not completely committed to your goals
Not sure if it's right for you? Send questions to [email protected]!
Frequently Asked Questions
When does the course start and finish?
The course starts now and never ends! It is a completely self-paced online course - you decide when you start and when you finish.
How long do I have access to the course?
How does lifetime access sound? After enrolling, you have unlimited access to this course for as long as you like - across any and all devices you own, and including any updates to the material!
What if I am unhappy with the course?
If you are unhappy with your results within 30 days of purchasing the Adventure Ready course, we'll refund you 100% of your money! All that we ask is that you show us proof that you actually did the work. (Completed worksheets and discussion prompts are usually enough).
I'm not planning to thru-hike. Is this course still for me?
Yes! The concepts in this course apply to ANYONE who dreams of optimizing their health. However, my community tends to be backpackers, hikers, and outdoor enthusiasts (all of which is what I am), so this is primarily who I speak to :)
I'm already pretty healthy. I eat clean and exercise. Will I still benefit from this course?
Absolutely! The beauty of this course is that no matter where you're starting from, this course meets you where you are. By focusing on the fundamentals, as this program does, you experience the benefits of dialing in your diet, gut, exercise, sleep, and stress. Whether you're just beginning your journey along the path of health or you're a well-versed veteran, the tactics and techniques will up-level your current health so you have more energy, endurance, resiliency, and confidence for your upcoming adventures!
How do I know this course will give me results? I've tried so many other approaches before.
I understand it's easy to be uncertain, especially when you've tried other programs before. This course is based off of what has worked for myself and my clients. Many approaches give you one path, which may or may not work for you. This approach teaches you how to personalize your health habits so you can do what works for YOUR body and skip the rest. This course guides you step by step, and provides community support and accountability, which is often a catalyst for transformation. I've put in thousands of hours of study and earned certifications and tested these methods. I've seen them work, over and over again. If you put in the work and follow the process, you will experience results.
I don't have access to a gym. Can I still complete this program?
Yep. You don't need to complete workouts at the gym to get results from this program.
I don't like to cook. Will I be able to benefit from this program?
Definitely! The food recommendations included in the course work with all levels of culinary expertise, from beginner to advanced. The course outlines eating guidelines and you customize it to your lifestyle based on how much time you have, your taste preferences, and your skill level.
I've tried other diet programs before. How is this different?
Adventure Ready is not a diet program. It's a comprehensive systematic approach to upgrading the foundations of your health including diet, gut health, your movement routine, your sleep, your stress, and your mindset. It's not a one size fits all prescription. This course teaches you how to personalize these pieces for YOUR body and YOUR life, so that wellness is sustainable and it becomes a way of life rather than a program that gives you quick results and then you're back where you started 6 months later.
Is this worth the money?
I may be biased, but I think so ;) The intention of this course is to help you reach your goals faster, with less expense, so you can experience a better quality of life and take the adventures you desire. Consider the following: Your Money: Working with a nutritionist or health coach one on one for 6 weeks would cost anywhere from $600-$1500. This course can save you thousands in doctor's bills, books, trainers, and testing. Plus, you have lifetime access to the course, including any updates to the material as nutrition science evolves and/or I find additional techniques. You can take the course again and again, year after year, or anytime you find your health has slipped. Your Time: This course provides a proven approach that can save you years of spinning your wheels. Instead of wasting that time in frustration, you could be using that time to plan your next trip and spend more time outside. When you look at the time and money you're saving through this course vs. learning all these techniques on your own, it's really a no-brainer. Your Quality of Life: What is the value of health? Of feeling vibrant and alive? Of taking the adventure of your dream? Of feeling free and strong and able to roam in the wilderness? It's priceless.
What if I go on vacation and I can't keep up with the material?
No problem! You have lifetime access to the material, so you can go at your own pace.
Are the dietary recommendations in the course suitable for "alternative" diets such as vegan, vegetarian, gluten free, etc.?
ABSOLUTELY! Katie, your instructor, has personally backpacked thousands of miles as a vegetarian as well as thousands of miles on a more paleo style way of eating. The Adventure Ready diet does not promote one specific dietary approach because we believe in bio-individuality. Each person is different and thrives on different foods. The foundation of the Adventure Ready approach -with nutrition, movement, supplements, and beyond- is to teach you how to find what works for YOUR UNIQUE BODY.
What's the difference between the Adventure Ready course and 1:1 coaching?
Private coaching is MUCH more personalized. When I work with a client in a 1:1 setting, we do a thorough review of who you are, your unique challenges, your goals, and your lifestyle. From there, I'm able to provide laser-focused recommendations and coaching on exactly how to get where you want to go faster. While it's likely that we'd cover similar topics as what you'd get with the Adventure Ready course, how deep we go with each will be completely dependent on you and your needs, and we can fine tune the recommendations based on what we seeing working/not working as we go. Working together privately, I can also coach you on the mental aspect of making changes and working through any challenges that come up. That's just not possible with an online course. We also work on self-directed neuroplasticity in private coaching (e.g. teaching you tools to change your own brain so that you're changing habits for good). Another aspect of private coaching that's different than the AR course is that in private coaching I can also support clients with their backpacking goals, such as by reviewing gear lists or supporting them with trip planning, etc. Ultimately, I think the Adventure Ready course is great for someone who needs guidance in preparing their health for a backpacking trip, but they don't need/want any hand holding, accountability, or personalization. Private coaching is great if you're ready to go all in on your health and backpacking goals and you want me (Katie) right there by your side for guidance, support, personalization, and working through any challenges that arise.
This course is for the courageous adventurer who...
is ready to create resilient health,
wants to be ready to say YES! when friends invite them on a big outdoor adventure,
and is ready to enjoy nature without the distraction of aches and pains.
For less than the price of a good piece of gear, the Adventure Ready course can save you time and money in your quest to have your most fulfilling adventure yet.
Questions? Concerns?
I completely understand! Investing in yourself and your dreams can feel scary.
Feel free to email me directly at [email protected] or use the chat app on this page :)