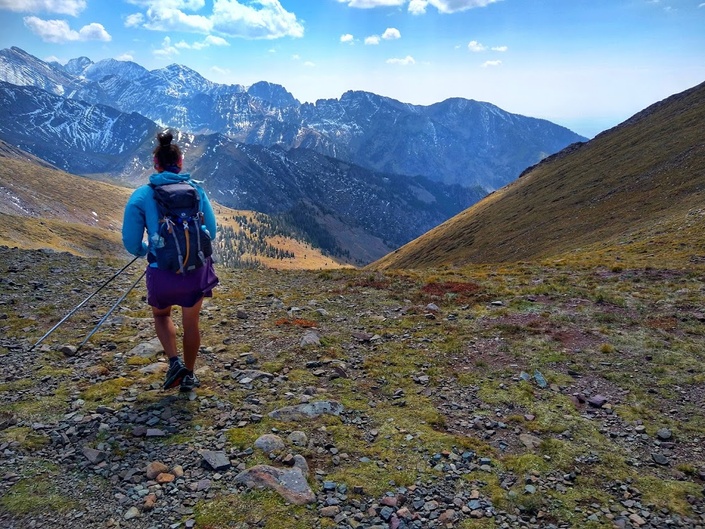 Performance Nutrition + Meal Planning for Backpackers
How to use nutrition to lighten your pack and hike more miles with improved energy and faster recovery
Enroll in Course
Increase Energy and Reduce Pack Weight on Your Next Backpacking Trip.
Discover how nutrition and a streamlined framework for meal planning set the stage for a lifetime of more outdoor adventures.

In this simple but powerful course, I'll guide you through the same approach that I've used to fuel myself over the course of 10,000+ miles while avoiding overpacking, going hungry, or relying on junk food.
It's one thing to know how to fuel yourself at home, but eating to fuel a backpacking trip is more complex.
Imagine:
You've decided that this is the year you're going to spend more time outdoors because every time you're out in nature, you're nourished by the experience.

You unwind.
You feel free and alive.
You feel connected to yourself and the natural world.
You begin to plan your next (or first!) trip and instead of feeling overwhelmed, you know exactly what to do.
You have an organized framework for planning your meals and resupply strategy to ensure you have the right food to feel your best.
You're confident you know:
...exactly how much food to take.
...what food is the most weight-efficient while still being nutritious.
...the supplements that will keep you strong and healthy.
...how to plan for a multi-week (or -month) trip!
You successfully complete your goal trip, in awe at how good your body felt-lots of energy, fast recovery, injury and illness free.
And then what? You're already planning the next adventure :)
This course is designed to help you make this your reality, no matter your level of backpacking experience or nutrition knowledge.

The Performance Nutrition & Meal Planning for Backpackers course is a complete framework to quickly master backcountry meal planning so you can enjoy improved energy, faster recovery, and a lighter pack on your next hike.
Here's How It Works:
1. Calculate Caloric Expenditure (i.e. How much food to pack)
2. Dial in Your Macros (i.e. What type of food to take)
3. Choose a Resupply Strategy
4. Create Your Meal Plan
5. Complete Your Goal Hike with Abundant Energy & a Lighter Pack
Your Instructor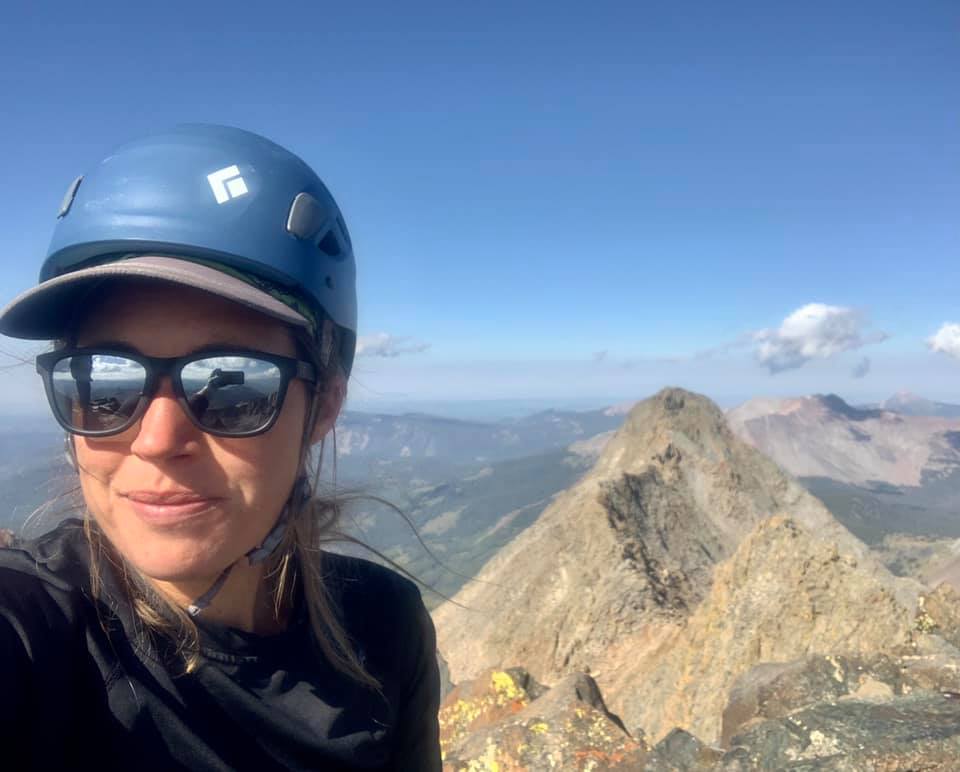 Hi! I'm Katie, certified holistic health and nutrition coach, author of Adventure Ready: A Hiker's Guide to Planning, Training, and Resiliency, and seasoned long distance hiker with thousands of miles on trail such as the PCT, CDT, CT, and more!
This course is the exact step-by-step system for backcountry resupply and meal planning that my clients and I use to have boundless energy, lighter packs, lower inflammation, and faster recovery so that we can successfully accomplish our backcountry goals and get more enjoyment out of our time in nature (because that's what it's all about, right?!).
I want that for YOU too!
Time spent immersed in the wilderness can be life-changing and it's so much more enjoyable when you're fueling your body with what it needs to THRIVE out there.

Your energy and the overall health of your body are your greatest assets on trail and they're highly affected by what you eat.
Here's a look at the curriculum...
Course Curriculum
The 3-Step Process to Determine How Much Food to Pack
Available in days
days after you enroll
Ideal Macronutrients for Backpackers: Eat to Keep Energy Up & Pack Weight Down
Available in days
days after you enroll
Whether you're going out for a few nights or planning a thru hike, food is one of the biggest parts of planning a trip, and you want food that will provide energy and endurance, and which tastes great.
This course will answer the following common questions:
*How much food do I pack?
*What foods do I bring backpacking that will give me the best energy and keep me strong?
*How do I create a meal plan?
*What are some snack and meal ideas?
Why spend months/years watching YouTube and piece ideas together, stumbling through, when you can have a streamlined process laid out for you for less than the price of a nice tent?
The course includes:
Lifetime Access
Self-paced lessons
Resupply spreadsheet template
Meal planner template
Inventory and Shopping list tool
A hiker pantry guide
Template for creating nutritious recipes at home
Examples of snacks and recipes
Discounted professional grade supplements
Upon enrollment, you'll have immediate access to all materials, including...

Bite-size Videos

Downloadable PDF Worksheets to Help You Take Action

Support in a Private Community

Access to All Future Updates
(meaning enroll now and you'll be grandfathered in to all future content updates whereas new students will pay increased tuition)
What people are saying...
This course will give you a very good understanding of the role nutrition can play in improving your long distance hiking experience, and your overall health in general. It also provides some really concrete examples of how you can achieve these goals with some really well thought out resources.
I'm so grateful for the information. I've been backpacking since my mid-20's, so I know, generally speaking, how my body is on the trail. I was really curious to incorporate your teachings, and it made such a great impact while out there. While i had always been an avid post-workout (hike) recovery meal asap person, I had never thought about when I eat fat vs carb meals while on the trail. So cool!
-Annie Secrest
Hi Katie, I wanted to send a quick note of thanks. During the Spring I purchased your course work. I used your insights in my recent successful thru-hike of the Colorado Trail. Perhaps we'll cross paths in the near future and if so I'll be happy to buy you a celebratory drink.

-Keith
I've personally learned a ton and completely changed my diet by following Katie's guidelines and advice. My energy levels and digestion capacity have done a complete 180 throughout the last 10 months of transitioning away from all the crap food that I used to love so much.
-John (Bigfoot) Carr, IT Specialist, CDT, PCT thru hiker
"Having Salty as a hiking partner, I was fortunate enough to absorb and put into practice a lot of her health and nutrition advice. My diet was cleaner on the ODT than any other hike I've completed and we pushed hard on that hike. I had better energy and endurance, and my digestion improved too!"
-Whitney (Allgood) LaRuffa, Former President of the American Long Distance Hiking Assoc.-West, thru hiker AT, CDT
"I've been thinking a lot about how small changes in my diet and nutrition can help or hinder my performance as an athlete. Last year, I took the Adventure Ready course taught by my friend (and sometimes hiking partner) Katie Gerber and was surprised by how much it changed how I hiked the PCT this past summer and how nutrition (and maybe other things?) made me feel stronger (even though I carried less weight in food than usual!)
As with most things in life, I came into the course last year thinking I'd get one thing and ended up getting something a lot more valuable. At this point in my hiking career, I thought I had nutrition dialed in. But I took the course hoping to find new foods that I wouldn't get tired of, because I feel like I've had my fill of any trail-stable food that exists.
One of my big takeaways was about timing of when to eat food on trail. One example is that I learned to never start the morning with a sugary breakfast (which, admittedly, was often the only kind of food I felt like eating in the morning while I on a hike). This year on the PCT, (almost) every morning, I resisted the urge to start the AM with a chocolate bar or sports nutrition gel or gummy, and was surprised what a difference in made over the long haul of the day."
- Liz "Snorkel" Thomas, former AT self supported FKT holder, Co-Founder, Treeline Review
I just wanted to say thank you. I have been doing 200 mile section hikes on the AT these past few months. After my first hike, I lost 5 lbs which for a 110lb person is a lot. I'm proud to say that after taking the tips you provided, I didn't lose any weight over this last section! I have been recommending this book to other folks I have met on trail and on social media

Thanks for all that you do. I am grateful for the work you have put into helping others achieve their backpacking goals!
-Megan Lee
Beyond your basic "how to eat on trail blog post" this course was created to...
be a one stop shop to teach you how to execute efficient, effective meal planning for a multi-night backpacking trip

reduce pack weight

save you money

keep your body strong and healthy

prevent overwhelm and confusion about resupply

help you eat as healthy as you do at home, even on a "specialty diet"

increase your likelihood of success on trail

provide you with the framework, spreadsheets, calculators, and resources necessary to streamline your resupply and meal planning

for your next trip and every one you take in the future
Who is this course for?
Beginner AND advanced backpackers. If you want to create a backcountry meal plan and resupply strategy that helps you eat healthy, improve energy, and keep pack weight low, this course will help you get there, no matter where you're starting from.
Lightweight backpackers. You spend hundreds (thousands?) of dollars to keep your pack weight low and you want to apply the same efficiency to your food bag.
Lifelong Adventurers. You want to be that older person out on the trail crushing miles and summiting mountains.
Health-minded Hikers. You want to have the energy and endurance to hike big miles and finish your hike successfully and you know that how you fuel your body makes all the difference. If you have a dietary restriction, a health condition, or you just eat healthy at home and you want to transfer that healthy eating onto the trail, this course will teach you how.
Busy bees! You're busy with a job, family, or other obligations and you want a tried and true organized framework for creating a resupply strategy and backcountry meal plan, so you don't have to waste time searching online and figuring it out on your own.
Who is this course NOT for?
You want to "wing it." If you are allergic to any type of planning and you just want to eat from gas stations as you hike up the trail, this course won't be as useful to you.
You don't care about having a lighter pack. If you're not particularly concerned with over-packing or packing weight-efficient food, a few of the lessons may not apply to you.
You're not interested in performance or feeling your best physically. If you're not concerned with how your food impacts your energy, endurance, and health, this course may not be the best fit for you.




Not sure if it's right for you? Send questions to [email protected]
Enrolling in this course is a BIG and EXCITING step towards your next adventure, so let me address some questions you might be having...
Is it worth the investment?
This course has the potential to save you HUNDREDS OF DOLLARS in food costs by helping you carry the right amount of food so that you can pre-plan and purchase in bulk, by teaching you how to create trail food at home so you're not reliant on expensive freeze-dried meals, and by helping you carry the right food to fuel you're adventure so you don't end up spending having to end your trip early.
You can purchase this course for less than the price of a high quality piece of gear.
It takes time and money to make a backpacking trip happen. Why not set yourself up to have the best experience possible with the right food?
As one former student said:
"The cost of potentially having to bail on a hike by not preparing well far outweighs the cost of this course."
Can I learn this on my own?
You could, but how long would that take you? And how do you know whose opinions to trust? I've hiked thousands of miles, spent 15+ years studying (and becoming certified in) nutrition. I put this information together into an organized, effective, streamlined system so you can get to where I am in just a few weeks.
Why should I learn from you?
I've been where you've been and I remember how frustrating and overwhelming it felt to figure out what to eat to stay healthy on my hike and how to put that together into a resupply plan and actually execute on it. I've backpacked thousands of miles with an autoimmune condition that I keep in check through proper nutrition, and I want to share with you what I've learned.
How long will this take me to complete?
The course content itself will take about 5-10 hours to consume. However, the action steps take time to implement. The exact amount of time will depend on how focused you are and how fast you work, as well as the length of your goal trip, but most students are able to create their backcountry meal plan and resupply strategy in less than a month.
How long do I have access to the course?
How does lifetime access sound? After enrolling, you have unlimited access to this course for as long as you like - across any and all devices you own, and including any updates to the material!
What if I am unhappy with the course?
If you are unhappy with your results within 30 days of purchasing the course, we'll refund you 100% of your money! All that we ask is that you show us proof that you actually did the work. (Completed worksheets and discussion prompts are usually enough).
I'm not planning to thru-hike. Is this course still for me?
Yes! The concepts in this course apply to anyone undertaking a backpacking trip who wants an organized framework for creating a healthy, lightweight backcountry meal plan.
Do I need to dehydrate my own meals?
No. It's not something I personally enjoy or find necessary to eat healthy on trail. I'll teach you a simpler method. That said, if you love dehydrating your own food, more power to you and the information in this course will still be just as applicable.
The question I have relates to a seemingly life long sugar addiction. How or does the course address this? I am a more than capable cook, I generally avoid junk food over fuel food, I'm aware of proper nutrition both at a macro and micro level BUT that need for sugar drags me back. One donut becomes four, two cookies become the entire sleeve…
I have dehydrated tons of great entrees, started to create freeze dried meals to lighten my pack, used protein shakes and recovery shakes, had readily available dehydrated fruit snacks or leathers BUT sugar cravings sabotage.
When it comes to sugar cravings, on trail or at home, I most often see them tied to the following culprits:

-insufficient sleep which creates higher cortisol which can cause an increase in sugar cravings
-stress which also raises cortisol
-relying too much on carbohydrates which drives blood sugar imbalances, which creates cravings
-insufficient protein and fat throughout the day, especially at breakfast, and/or inadequate calories overall
-lack of micronutrients and electrolytes, such as magnesium
-poor gut health and lack of microbial diversity which can impact cravings
The nutrition course walks students through how to determine how much food they should be eating on trail as well as their ideal macronutrient balance and how to put that together into balanced meals. So, the potential causes of sugar cravings which the curriculum could help you address include balancing blood sugar, ensuring a good balance of macronutrients (protein, fat, and carbs), nutrient timing, nutrient sufficiency, electrolytes, supplements, hydration, and there's even a lesson on gut health.
Imagine how it would feel to have endless energy from dawn to dusk on your next backpacking trip WHILE carrying a lighter pack, and to have an organized framework for your meal planning.
How would that change your confidence for your next backpacking trip?
How would the ability to get outside more enjoyably change your life?
Questions? Concerns?
I completely understand! Investing in yourself and your dreams can feel scary.
Feel free to email me directly at [email protected] or use the chat app on this page :)